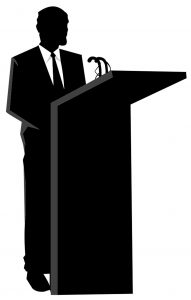 In regard to speakers, variety and balance in speaker subject matter is of utmost importance. We have identified the following as the main areas of topics of presentations by our speakers: Arts and Culture, Business and Industry, Economic and Financial, Education, Environment, Global Affairs, Health, History, Science, Sports. As stated by our founding President, John Leonard, in the February 2004 edition of Shorelines:
"The objectives of our speakers and their presentations should be to tell us where we are going, not just where we are or where we have been. We continue to seek speakers who are leaders in their fields, who can help us look at current affairs with perhaps a totally different perspective, even when we may not fully agree with them."
Below is the lists of Guest Speakers for our current year.
| | | |
| --- | --- | --- |
| | | 2021 Guest Speakers and Presentations (when available) |
| January | | King Wan, "Ship Building in the Lower Mainland during World War II" |
| February | | The Honourable Jody Wilson-Raybould PC MP, Politics and Current Affairs, "TBA" |
| March | | Dr. Allan Burgmann, Lions Gate Hospital, Emergency Department Improvements, "TBA" |
| April | | Jonathan Manthorpe, How the book "Restoring Democracy" Came Out of "Claws of the Panda" |
| May | | Dr. Marco Marra, "Genomics the Future of Cancer Care" |
| June | | Steve Macdonald, The Pacific Science Enterprise Centre, "A new way for the delivery of Science-based knowledge to the Department of Fisheries and Oceans – What Goes On Behind the Long Green Fence On Marine Drive in West Vancouver." |
| July | | John Atkin, Historian, "Downtown Eastside History Relative to Hogans Alley and the Viaducts" |
| August | | Dr. Michael Walker, Economist, Chairman, Fraser Institute Foundation & Founding Executive Director of the Fraser Institute, "TBA" |
| September | | Anna Stukas, VP Business Development, Carbon Engineering Ltd.. "Carbon Capture" |
| October | | Dennis Molnar, Historian, "Amazing People Stories of World War 2 (Part 3) including the British Woman who sank 5 German U-Boats" |
| November | | Maureen McGrath, Host of the Sunday Night Health Show on CKNW from 8 pm to 10 pm. |
| December | | No speaker due to Christmas Luncheon |